Waiting On Wednesday 10.05.2011
Werewolf in the North Woods
by Vicki Lewis Thompson
Released 10.4.2011
description:
When Abby Maddox's grandfather swears he saw Bigfoot in the woods behind his Portland, Oregon, home, his neighbors decide to bring in a prominent anthropologist to prove him wrong. Rather than see her grandpa made a laughing stock, Abby sets out to send the professor packing...until she sees how hot he is.

Roark Wallace can't risk having tourists comb the woods for Bigfoot-not with a local pack of werewolves to protect. When Roark meets Abby, sparks fly-but can he pursue this fiery red-head without compromising his pack?
My anticipation and thoughts for WitNW: I am a sucker again for any books with a setting in the Pacific Northwest so after enjoying WiM I cannot wait to see where this book takes us.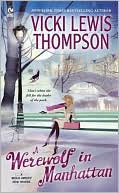 Previous book in the series:
Werewolf in Manhattan
Released 1.4.2011
description:
Emma Gavin writes about werewolves, but that doesn't mean she believes in them-not until a pack of real-life New York weres decide to investigate the striking accuracy of her "fiction".

When Aiden Wallace, son and heir of the pack leader, tries to sniff out Emma's potential informant, he discovers something even more dangerous- an undeniable attraction to her.
My Thoughts on WiM: I loved the first book, sucker for those haughty Irish names, and werewolves. The characters were so smooth and lovable and the story flowed smoothly along. The plot was perfect for me and it made a nice warm enjoyable read. When all of the elements of a story flow smoothly and there are these original suave characters that have some snark in them then I am a happy reader and Werewolf in Manhattan was just that. I cannot wait to see the story pick back up in Werewolf in the North Woods.