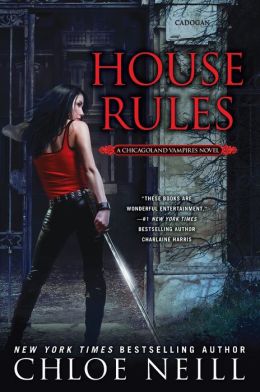 House Rules
is out today! Chloe Neill's Chicagoland #7 is breaking into houses today and capturing readers into the continuing adventures of Merit and Ethan.
Blurb From the Publisher:
In a city full of vampires, trouble never sleeps.
At the tender age of twenty-seven, Merit became a sword-wielding vampire. Since then, she's become the protector of her House, watched Chicago nearly burn to the ground, and seen her Master fall and rise. Now she'll see her mettle—and her metal—tested like never before.
It started with two . . . Two rogues vanishing without a trace. Someone is targeting Chicago's vampires, and anyone could be next. With their house in peril, Merit and her Master, the centuries-old Ethan Sullivan, must race to stop the disappearances. But as they untangle a web of secret alliances and ancient evils, they realize their foe is more familiar, and more powerful, than they could have ever imagined.
Our Thoughts On:
Merit, the Sentinel of Cadogan House, is back in the saddle again as all hell breaks loose in Chicago as there are rogue vampire murders and the GP is breathing down their back and at their door. When the GP comes to tear down the Cadogan Empire, will Merit and Ethan be able to keep themselves and their family together?
With a strong finish, House Rules will tempt readers for more and keep us at the edge of our seats as the characters struggle to keep themselves and their lives together as the universe tries them again and again. With McKetrick having a new position alongside the mayor, supernaturals are on the hit list when humanity chooses to forget the good that their community has attributed to their society. With being accepted into the Red Guard, but also being misinterpreted by a Master Vampire Merit may have to choose where her loyalty lies as the death toll is rising in Chicago on rogue vampires, a community now that Cadogan Vampires are a part of. Just getting Ethan back is not enough, keeping him is going to tear Merit apart, or she will have to tear some others apart to keep him.
A fast action plot, and the same character intrigue, betrayal, and lust that readers have come to love in the Chicagoland Vampire series, House Rules carries on in the deep fashion that we love to love from Chloe Neill. Merit struggles to keep her man and her house, even as the universe always seems to tear them apart and she may just have to kick a lot of arse to do it. Nothing is darker than our own souls when some situations tear us apart, and Merit is no newcomer to doubt and darkness when she is almost at the cusp of losing Ethan. Holding herself together and digging out from triumph from the ashes of a changing Chicago pulls our heartstrings. Keeping a strong face to keep her family together and overcoming and forgiving others is always a hardship for Merit but she may face a point in House Rules where is it better to ask for help when you really need it.
Coming in prepared and ready for a fight, Merit pulls House Rules through beautifully through the finish, leaving readers breathless for more. The conclusion is coming for Chicagoland in the coming years, will Merit and Ethan survive the storms headed their way? Biting Bad is next and I know that I will be pining for its release in August just counting down the days.