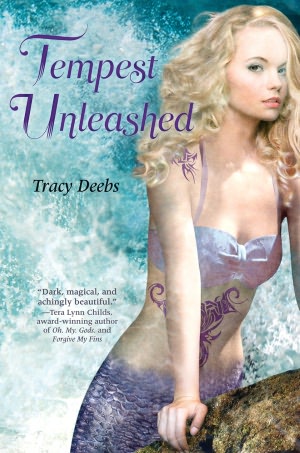 ARC Spot: Tempest Unleashed
by Tracy Deebs
releases 6.5.2012
Walker & Co
ISBN-13:
9780802728302
Pre-Order Today: bn / amazon / powells
Blurb from the Publisher:
Tempest Maguire is happy with her decision to embrace her mermaid nature and live among her mother's clan within the ocean's depths. Even though training to one day ascend the throne for the aging mermaid queen is rigorous, she finds refuge in the arms of Kona, the selkie who first opened her up to her mermaid side. But when word comes that one of her brothers has been gravely injured on land, Tempest immediately rushes to his side—which also brings her back to her old flame, Mark. And in her absence, a deadly battle begins raging at the hands of Tempest's old nemesis, the sea witch Tiamat. As the dangerous war erupts, Tempest's two loves—Kona and Mark, sea and land—will collide for the first time, both to protect her and to force her to choose...
Our Thoughts On Tempest Unleashed:
From Tempest Rising we read on as Tempest, a recently turned mermaid is coming into her powers and falls into a massive battle under the seas and in her heart. With Unleashed, Tempest's life is a battleground of oceans and feelings because everything is culminating into war.
Tiamat is relentless in her pursuit as the evil ocean overlord, destroying cities across the oceans' floors, and Tempest is learning more about her powers and coming into new ones. As Tempest trains with another merman named Sabyn, we find that the Queen is playing with Tempest and also that a deadly secret is being played against them all. The Queen is a constant rife between Tempest and Kona the selkie prince and their relationship, but Tempest soon finds her life ripped apart as she feels that something horrible has happened back on land with her family.
With a reintroduction to the past with her home and her prior love of the human Mark, Tempest soon finds that not only does she create storms at sea, but also storms in her romance around the two boys who care for her deeply. The Mark and Kona triangle are under fire in Tempest Unleashed and Tempest must make a choice to save the lives of the people she loves that could cost her the love of her life.
Unleashed
lets loose more fears and dangers for the mermaid Tempest, as a huge war underwater is taking place that will change the lives of all of the characters above and below sea. Tracy Deebs has created an amazing cast of characters rich in myth and past that delights readers and keeps us hungry for more after each book.
*received a copy from the publishers through netgalley, and their amazing website. An honesty review was typed out by me with at least three cups of coffee in my system and I hope all errors were auto-corrected or fixed by flying monkeys in residence.