Upcoming Reads:
Grave Mercy
by Robin LaFevers
Releases 4.3.2012
Blurb from the Publisher:
Escaping from the brutality of an arranged marriage, seventeen-year-old Ismae finds sanctuary at the convent of St. Mortain. Here she learns that the god of Death Himself has blessed her with dangerous gifts — and a violent destiny.
First Chapter: HERE
My Thoughts On Grave Mercy:
I loved it! With a snarky nun who is lacking in womanly arts to a a whole arsenal in her bag to take down her appointed targets, this female assassin has walked a hard road in life and is taking advantage of her gifts. Marked from birth and rising into her own rights, Ismae is a heroine that readers will love and twists in the story that boggle our minds while steeping us in a little history that flows seamless throughout the story.
A tough heroine and a history lesson all in one, a Grave Mercy will captivate readers and keep you fascinated. Ismae has been seen birth as something different and while abused and sold, she soon finds herself in a position of power as a Handmaiden of Death or one of Mordain's Daughters.
Grave Mercy will capture readers in a story that is not only Ismae's struggle with her own past and current path in life, but also within what she feels in her assignments and their impact on her country.
As the tides turn and a country is soon steeped in treachery and war, will Ismae be able to choose love, her orders, or the future of her country and the Duchess she has found herself befriending and protecting over the order carried out from her own nunnery?
With ties into history and myth Grace Mercy was an amazing read I ate up. I loved the characters and their interactions with relationships while at the same time I enjoyed the twist of history. This author has created an amazing past that will grip readers and leave us wondering why is next in this fair assassin's future.
Publisher site:
http://hmhbooks.com/gravemercy/
Author's Awesome Webpage:
http://www.robinlafevers.com/
Book Trailer:
http://www.youtube.com/watch?v=CJ9rfquJ5PQ
Robin LaFevers Twitter:
https://twitter.com/#!/RLLaFevers
Facebook
:
https://www.facebook.com/rllafevers
Goodreads:
http://www.goodreads.com/author/show/180392.R_L_LaFevers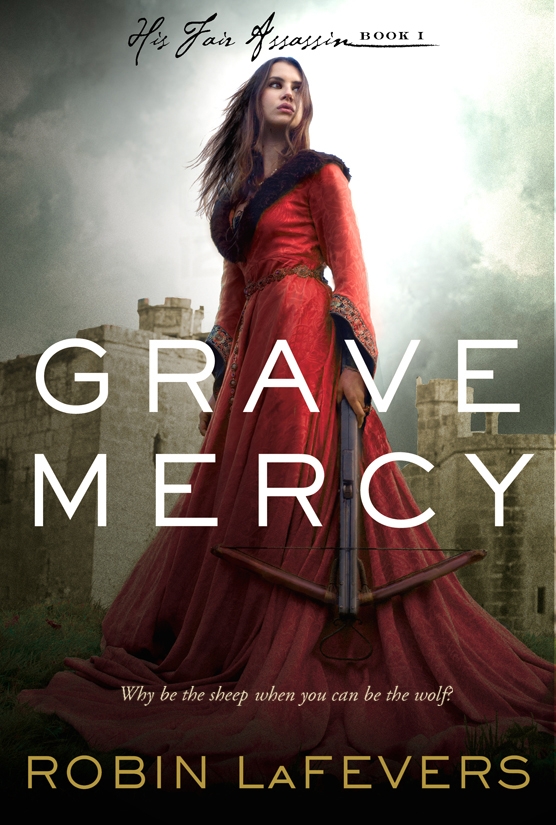 Pre-order Grave Mercy Today