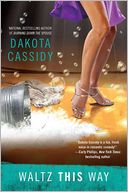 Coming next year is the release of the the Ex Trophy Wives Series Book 3,
Waltz This Way
by Dakota Cassidy.
This is one of my favorite authors with her fabulous literary creations that leave you laughing and loving the characters at the same time. With a hard exterior but with a squishy middle the heroines in Dakota Cassidy's books leave a lasting impression on their readers.
Waltz This Way blurb:
In her new novel, national bestselling author of

Burning Down the Spouse

, Dakota Cassidy takes on life, love, and championship ballroom dancing. Get ready to rumba.Left without a partner...When former ballroom champion Melina Cherkasov found out that her famous husband was cheating, she was devastated, especially since she was informed by a sleazy reporter on national TV. Thanks to an ironclad prenup and a scumbag ex, Melina has to pack up her dog and her dignity and take refuge in her dad's retirement community in New Jersey....it's time to take the lead.To make ends meet, Melina puts her dancing shoes to use as an instructor at Westmeyer-a private school for boy geniuses. Teaching a bunch of hormonal teenagers to waltz is trying, but the school's sexy handyman provides ample distraction. Drew McPhee is perfect, except for one thing: He doesn't like dancing. Thankfully, the finesse Drew lacks on the floor is more than made up for by his skills in the bedroom. And after one steamy night, the ballroom diva is the one getting swept off her feet...
My feelings for the book are:
What Dakota Cassidy has created with her Ex Trophy Wives series is nothing short of snarky excellence.
Waltz This Way takes us into the life of Melina, wife to a rich Dancer and showman who has been kicked to the curb from her marriage and is back in her old town living with her Dad. With rich and vindictive characters we cheer on Melina as she builds herself back up in life and faces her obstacles with those big girl panties and a tub of chocolate frosting. Because sometimes that frosting can help a girl out, right?!
Left with nothing to her but her clothes on her back Melina soon finds herself with a handful of spunky senior friends, teaching dance at a school for whiz nerd boys, and caught between and ex and new man while keeping herself afloat in a future she designs.
Dakota Cassidy weaves such a rich tale in Waltz This Way that the reader itches for dancing feet and cannot wait to read on more. With great plot twists and a great cast of characters this book will dance into your heart and the ending will leave you with a good book hangover.
Waltz This Way
by Dakota Cassidy
Previous Books in the series include
You Dropped a Blonde on Me and Burning Down the Spouse