WoW: Tiger's Voyage
by Colleen Houck
Releases: 11.1.2011
Book Description:
With the head-to-head battle against the villainous Lokesh behind her, Kelsey confronts a new heartbreak: in the wake of his traumatic experience, her beloved Ren no longer remembers who she is. As the trio continues their quest by challenging five cunning and duplicitous dragons, Ren and Kishan once more vie for her affections--leaving Kelsey more confused than ever.
Fraught with danger, filled with magic, and packed with romance,

Tiger's Voyage

brings Kelsey and her two tiger princes one step closer to breaking the curse.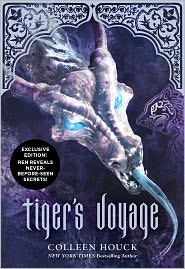 My thoughts:
I heart this series! Between Ren and Kelsey and Kishan there is some fabulous love triangle going on and when Ren gets amnesiatic the stakes grow higher. Now while Ren is great and all I may be playing more for bad boy Kishan and his dark broody but warm gooey center for Kelsey. There is much to come with this highly anticipated upcoming release from the amazing Colleen Houck!
Pre-Order now
BN.Com
Amazon.com