Today my Book In Hand:
Truth by Julia Karr
Releasing January 2012
The first book is this amazing dystopian series was what becomes of girl when she 16, or sex-teen, and what society forms these girls into being while at the same time a revolution is happening to break these assumptions and mandates.
We meet Nina, a girl who is loosing so much, and is fearful at what will happen as she is tattooed 16, and what the world will be like for her little sister on her birthday.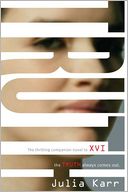 Nina finds her inner strength and her will to fight in XVI and with the coming of Truth, she is fighting for just that The Truth. Tired of being afraid for what a year and a tattoo makes of a girl in this future world, Nina breaks out from the Norm and fights back for herself and all girls out there. The Truth will set you free and Truth by Julia Karr brings to the forefront many issues and concerns facing teens today while also putting in a scary dystopian future of a society that has taken a girl's right to choose for herself and her own body away. What Truth can free us, and what Truths are better kept secret. Find out in Truth by Julia Karr.
Friday 56:
from the ARC..
"When I placed my hand in his, I felt some of his strength flow into me. A smile tugged the corners of my lips, and I gladly went along with his silliness, It was the perfect touch of humor to lighten my mood. 'Thank you, sir.'...
'Proceed to your apartment at once,' and automated voice intoned."
XVI by Julia Karr
Released 1.6.2011
Fabulous Read in a new Dystopian Series!