Teaser Tuesday: Hammered
Teaser Tuesday is weekly meme hosted by

Mizb at Should be Reading
Share two (2) "teaser" sentences from somewhere on that page
BE CAREFUL NOT TO INCLUDE SPOILERS!
Share the title & author.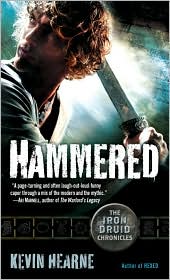 Hammered
by Kevin Hearne
Released 7.5.2011
326 pages/paperback
She nodded her understanding and said, ""Well, our short acquaintance has been most instructive. On one hand you're responsible for wiping out half my coven, and on the other you're largely responsible for preserving the lives of those who remain. You were forced into defending yourself in the first case, but you had no obligation to help us in the second. I must conclude that Druids are dangerous but fairly amenable acquaintances, though my sample size is admittedly very small." She smiled, "Whatever you're about to undertake, I hope you'll survive and manage to find us in the future. If we know you're coming, Berta will bake you a cake." pg 75
Aw shucks Atticus, you are my total Book Boyfriend. All you wanted was to settle some roots and have a home, and now everything is gunning for your demise. I would totally take you in and back you a cake.
If you have not checked out the Iron Druid Experience, then you are missing out on some fraking awesome reads. I love Atticus, Oberon, and the whole course of characters. There is action, adventure, good ale, and a love of great epic dialog. Kevin Hearne created an awesome world in his reads and I cannot wait for more.