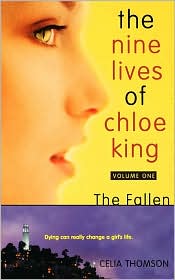 I am excited about the release in the coming weeks of ABC Family's new series, The Nine Lives of Chloe King. It is an adaptation from Celia Thomson's book series of The Fallen and the Nine Lives of Chloe King.
There has been a great buzz on the new about
ABC Family's Nine Paths game
, that has been such fun to play since it ties the book, myth and the tv series together in to an awesomesauce pie.
There are charms to be one and an ultimately amazing grand prize trip to be had for a winner, so if you want some good times, come over and play.
To begin the journey and win a charm, type "circle" into the right side bar and get your journey started.