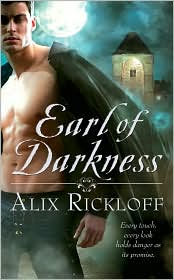 Earl of Darkness by Alix Rickloff


Pub. Date: December 2010
Publisher: Simon & Schuster Adult Publishing Group
Format: Mass Market Paperback , 368pp
I got my hands on a copy of the Earl from the Book Blogs Gallery, and once in I could not keep my hands off of it. I absolutely loved these characters!
There interactions were so much fin reading, and the writing was so fluid and easy to read, even when my attention was turned elsewhere for a bit and I picked the book back up I was still ready to jump right back into the story.
While Cat and Aidan are sorting through this diary of his father's and finding all of this mystery out, we find their relationship expanding.
I loved all of the different characters and their abilities in this world magical entities. I really enjoyed Cat and her strong character, but I respect Aidan as he was coming to terms with his past and really finding himself.
There was a wonderful blend in this book that was just amazing and I cannot wait for more from this author. If you need something to kick past this season winter darkness, pick up the Earl and warm yourself with some pages.