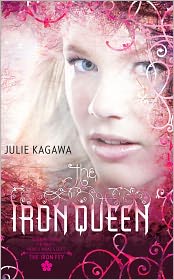 The Iron Queen by Julie Kagawa
Pub. Date: January 2011
Publisher: Harlequin
Format: Paperback , 368pp
Age Range: Young Adult
Not only do I have cover love for this future installment of the Iron Fey saga, they also have amazing trailers and an amazing author.
While the actual review will come later next month I wanted to toss a preview of my reading experience.
I put the kids to bed early (I ice skated them tired ;) and stayed away all night sucked into the story. The book picks up right off from Iron Daughter (oh loved ID) and there is hardly any length back plot discussion ( which I also love since of course we read all previous book since it is amazing).
The writing is so beautifully flowing that I hardly wanted to take breaks. There is enough description to imagine the landscapes without writing too much detail (perfect). The characters and what they face as emotionally written to the point I was chocked up in tears and then feeling freaking fabulous that I read it with a bit of turmoil since the next book Iron King is so far off !
So put this high on the TBR pre-order list,
you will not be disapointed in this book if you have loves the previous two.
Julie, you are amazing! Your world are fantastic and the characters in them haunt my dreams ;)