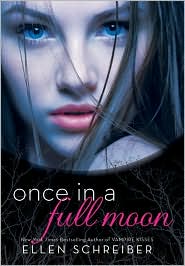 Once in a Full Boon, by Ellen Schreiber
Pub. Date: December 2010
Publisher: HarperCollins Children's Books
Format: Hardcover , 292pp
Age Range: Young Adult
I had total cover love for the book. In fact when the cover was released I was estatic since my teens had been reading the Vampire Kisses series for years.
The cover really stood out and called attention to me to pick it up.
I really, really wanted to love this book. I really, really wanted to believe that this book couls stand out in the genre and have astounding writing.
What I found in Once in a Full Moon was the story of a girl who loves a were. As it progresses we see her overcome her feelings and begin a relationship (sort of?) with the new boy from the other side of town, Brandon.
The writing was good, there was a nice developing plot.
I think I was just expecting more.
There are a lot of shifter books out there and come were just so breathtaking this year in their releases. Each one has been getting more amazing. While reading this book I was just waiting, waiting for SOMETHING to happen.
There was a lot of pages and not much was really different from the end. The main characters, Celeste and Brandon, sort of like each other, are drawn to each other, but they are not really in a relationship. The main character is still sort of in a relationship with her (EX?) boyfriend? But she never really told him it was over. She never tells her friends she is really in a relationship with Brandon.
I mean to say that this was a good start, and I will totally read the next book and hope the plot thickens, but my overall feeling was really that I was left hanging as a reader. I did not really feel for the characters, I love strong characters and these were, well, very undecided on what they wanted. The plot didn't fell to move into something moving and the cover draws you in but then there is the uh hmm? feeling with eh?
With such a strong previous series full of great character dialog and quirky plot to this, I was just feeling lost and empty pocketed. The cover will be good wall art.
So I am sorry Ellen. I am sure this was long and hard to write, with all these great books out there, and your past amazing characters I was just wanting more and it didn't pan out yet. I hope for more in the next book.