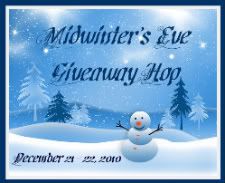 This year we are participating in the Midwinter's Eve Giveaway Hop. There are a lot of sites participating in the event so you should hop over and check them out.
Happy Solstice Readers.
Winer invokes times of cold days, sliding down frozen roads on recycled boxes, coffee, hot chocolate and not wanting to go outside, but read read read!
So to commemorate this cold occasion, this first day of winter, this Solstice, we are giving away the book HEIR
OF NIGHT by Helen Lowe. I loved it, and mine was signed. This book I picked up yesterday from my local bookseller, so if you could like to enter to win it:
Comment below with the answer to this question, and your email:
If you could be in someplace reading right NOW where would it be?
My answer would be in Ireland in some hotel in a castle room overlooking from amazing greenery few with sheep and ponies in it. Mmmmm nice
You have the duration of the Giveaway to enter, which is two days. I will radomly toss emails in a bucket (I totally have one of those) and pick one out on Thursday Morning. I will even post a picture of said bucket ;) in case you wanted to see it. Nice huh?
Alright here we go and come hop along to all these other wonderful sites.