This Week's Book In Hand:
Chimes at Midnight
by Seanan McGuire
Blurb:
Things are starting to look up for October "Toby" Daye. She's training her squire, doing her job, and has finally allowed herself to grow closer to the local King of Cats. It seems like her life may finally be settling down...at least until dead changelings start appearing in the alleys of San Francisco, killed by an overdose of goblin fruit.




Toby's efforts to take the problem to the Queen of the Mists are met with harsh reprisals, leaving her under sentence of exile from her home and everyone she loves. Now Toby must find a way to reverse the Queens decree, get the goblin fruit off the streets--and, oh, yes, save her own life, since more than a few of her problems have once again followed her home. And then there's the question of the Queen herself, who seems increasingly unlikely to have a valid claim to the throne....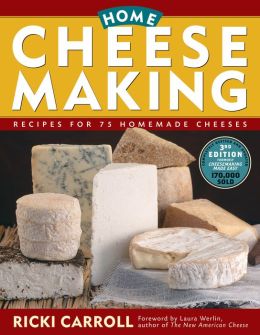 Home Cheesemaking by Ricki Carroll
Because when you have two milking goats and a gallon and a half a day,
you need to find ways to use it to justify feeding them.
Hitting The Bookstore For:
Untold by Sarah Reese Brennan
Inheritance by Malinda Lo
Countdown by Michelle Rowan
The Shadow Society by Marie Rutkoski
Vicious by V.C. Schwab
Through The Zombie Glass by Gena Showalter
The Real Boy by Anne Ursu
whew . . . this week is a paycheck killer! but I have been dying for these ones. ..