Ok, so over the weekend our Season 3 of Downton Abbey came in from the local library, and we lost the weekend and had a tearfest since it was the most TRAUMATIC season yet. All ages in our house went through tissues, I should have bought stock in Puffs after that!
So I bring to you, a Downton Abbey Parody: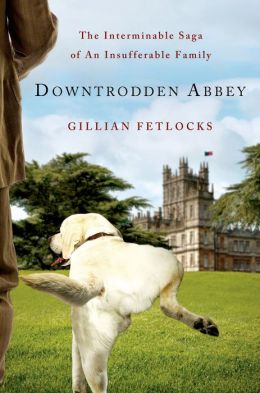 Downtrodden Abbey
Gillian Fetlocks
Releasing 12.3.2013
Macmillan, St. Martin's
ISBN: 9781250031235
Blurb From The Publisher:
Welcome to Downtrodden Abbey, where a battle for the deed to the property is waged between legitimate aristocrats and literal pretenders to the throne. The Crawfish family—Marry, Supple, Enid, Lady Flora, and Lord Roderick—are content wiling their days away with naughty charades and twenty-two course dinners until the sinking of the Gigantic takes down the next in line to inherit Downtrodden. Soon, cousin Isabich and her son, Atchew, the rightful heir to the Abbey, arrive to claim what's theirs. Downstairs, the servants are running amok, as crippled weakling Brace is aggressively courted by teen hottie Nana, and lady's maid "Potatoes" O'Grotten and her flamboyant sidekick, Tomaine, cause trouble at every turn. The ensuing, insufferably overwrought melodrama takes the reader upstairs and downstairs, into parlours and drawing rooms, boudoirs and bathrooms, and across every class—from the classiest to the classless—in the social pecking order of Edwardian England. Uproariously funny, with a wicked sense of humor that

Downton Abbey

diehards will enjoy, Gillians Fetlocks skewers your favorite characters with panache in this winning parody.
But to for all you die-hard Downton Fans, like moi: