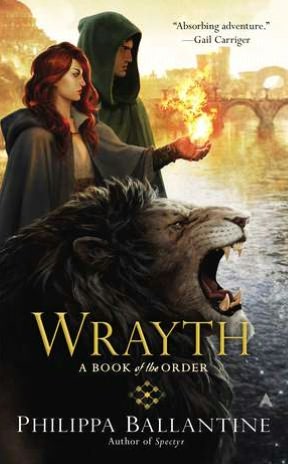 Blurb From The Publisher:
In the Empire of Arkaym, the Order of Deacons protects and shelters the citizens from the attacks of the unliving. All are sworn to fight the evil forces of the geists—and to keep the world safe from the power of the Otherside…


Although she is one of the most powerful Deacons in the Order, Sorcha Faris is still unable to move or speak after her last battle. Even her partner, Merrick Chambers, cannot reach her through their shared Bond. Yet there are those who still fear Sorcha and the mystery of her hidden past.




Meanwhile, Merrick has been asked to investigate a new member of the Emperor's Court. But when Sorcha is abducted by men seeking Raed Rossin, the shapeshifting rival to the throne, Merrick must choose where his loyalties lie.
The Empire of Arkaym is in disorder as the rippling effects of the geists and their attacks still rock the foundation of their world. What begins to unfurl in this Empire is deceit and destruction all in the name of ideals as the Order will soon be delved a crippling blow that will change everyone's future forever. Sorcha is laid up from the devastating aftermath of her magical expenditure in Spectyr and being unable to move or speak is beginning to build up on her sanity. Merrick is hunting after a cure for his partner Sorcha but as he soon discovers something is afoot in the Order, Sorcha is moved sending Merrick on a chase to save himself as a royal kidnapping is placed upon his head, and the dangerous Order of the Stars and the previous Native Orders are acting in the present against the royal family,
Sorcha is still fighting for her life while unable to move or speak and all the while so many things are taking place. Being sent off on an airship for some untold destination Sorcha soon finds herself while also regaining some of her powers just as something terrible strikes through her homeland and through her magic. Merrick, caught in his own troubles delves deeper into history and tries desperately to rescue Duchess Zofiya and save his Order. Raed Rossin and his geistlord are struggling to keep alive and sane as Raed has let his geistlord use his body almost one too many times and the path to madness runs close. As his gamble with his inner demons is taking its toll on Raed, he also soon finds himself trying to save his sister even as she is causing destruction reigning down on the world through associations with other geistlords. Coming to terms with his family and its legacy, Raed longs for Sorcha and when they do meet up not only will sparks fly, but also Empires will burn.
Wrayths will reign high and destroy many on their conquest for power, and the real question will be who will stand up against them and fight even through the darkest moments. Wrayth is a power addition to the Book of the Order series and it plays out so well and with depth and action. As more history is revealed on the main characters we witness their worlds torn asunder and their struggle to survive the changing times. Philippa Ballantine has rocked the genre will the growing fantasy series that plays true to creating a fabulous new world full of wonders and deceit that is entrenched in treachery and power hungry officials. With a tight cast of characters that weave through the books we find that with power comes immense responsibility and the people who have the power must come to terms with their own inner demons just as they in turn must struggle to fight all of the forces moving against them and their world at the same time. With a progressive plot and teeming romance; flying lion geistlords and fiery fists of power, the Book of The Order series will catch readers and keep them hooked in a fantasy that does not fail to deliver a powerful punch to readers with every new release.