Fist Pump To Ari Marmell this Friday!
I picked up
The Thief's Covenant
the other day and was blown away by this author!
I can hardly contain the squee! here as this was a really well placed and spoken storyline that entranced me and left me wanting so so much more from Adrienne Satti the
TC
heroine.
Ari Marmell is the author of this fabulous new series that will captured readers into the life of a thief, but also a female thief who struggles to keep her paradigms but also strives to survive from a past of discord.
Find Ari Marmell Online
Goodreads Author Page:
HERE
Twitter:
HERE
Fabebook Page:
HERE
Mouseferatu Blog:
HERE
On Wikipedia:
HERE
Thief's Covenant
Ari Marmell
released 2.21.2012
Publisher: Pyr
http://www.pyrsf.com/
https://twitter.com/#!/pyr_books
Buy it Now:
bn
/
amazon
/
powells
Blurb:
Once she was Adrienne Satti. An orphan of Davillon, she had somehow escaped destitution and climbed to the ranks of the city's aristocracy in a rags-to-riches story straight from an ancient fairy tale. Until one horrid night, when a conspiracy of forces—human and other—stole it all away in a flurry of blood and murder.


Today she is Widdershins, a thief making her way through Davillon's underbelly with a sharp blade, a sharper wit, and the mystical aid of Olgun, a foreign god with no other worshippers but Widdershins herself. It's not a great life, certainly nothing compared to the one she once had, but it's hers.
But now, in the midst of Davillon's political turmoil, an array of hands are once again rising up against her, prepared to tear down all that she's built. The City Guard wants her in prison. Members of her own Guild want her dead. And something horrid, something dark, something ancient is reaching out for her, a past that refuses to let her go. Widdershins and Olgun are going to find answers, and justice, for what happened to her—but only if those who almost destroyed her in those years gone by don't finish the job first.
Our Thoughts on the Thief's Covenant:
What really struck me as something in the Thief's Covenant was the span of time portrayed in the story. Like a jar of marbles, pieces of Adrienne Satti's life slowly come into focus for the reader between present day chapters. As readers move through the book so much is built up upon the character's story and histories together that one cannot be but amazing at the fluid progression and perfectly time divulging of the past inherit in TC.
Adrienne Satti is a survivor. From childhood brought adult, Adrienne has suffered at the hands of fellow man and t much break she is trying to survive all of her adventures as they twist and turn beneath her feet.
The Thief's Covenant is a most amazing story of heartbreak and triumph, while surround by luscious world building. The entire book takes place behind the walls of a city named Davillon, and through the eyes of Adrienne the inner workings of the people are revealed. From the rich houses and past the fancy parties to the retch covered streets and the marketplaces Ari Marmell has produced Davillon for readers. Rich in description and details TC has taken on a mantel of fantasy so well that it was hard to put down. With a strong group of characters that have a fantastic voice throughout the story I just did not want to leave their heads. Adrienne Satti keeps sing dealt the low hands in life, but as she struggles to stay alive and also to find it in herself to move on and seek absolution in her faults is fresh. Adrienne or Widdershins trusts little of the world and questions just another everything. With a string attention to detail this character can move stealthily through a world of heavy thievery competitions and a lengthy set of rules.
Trying to keep away from the jail cells and the assassins, Adrienne struggles to keep herself together but also take on dangerous new challenges. With several supporting character's making appearance throughout the story readers will feel compassion, delight, and heartache alongside the characters as they struggle to right wrongs setting place in their city.
Readers will delight in this new fresh release that keeps them at the edge of their seats airing for more. With more nicknames than your average person Widdershins will capture readers with her voice and wit while she runs from all sides of the laws. The Thief's Covenant is a new series that is not to be missed.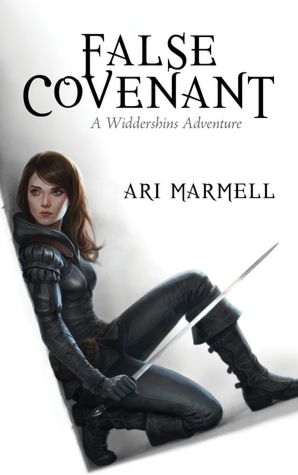 Blurb:
A creature of the other world, an unnatural entity bent on chaos and carnage, has come to stalk the nighttime streets of the Galicien city of Davillon. There's never a good time for murder and panic, but for a community already in the midst of its own inner turmoil, this couldn't possibly have come at a worse one.

Not for Davillon, and not for a young thief who calls herself Widdershins.

It's been over half a year since the brutal murder of Archbishop Wil­liam de Laurent during his pilgrimage to Davillon. And in all that time, Widdershins has truly tried her best. She has tried to take care of Genevieve's tavern and tried to make a semihonest living in a city slowly stagnating under the weight of an angry and disapproving Church. She has tried to keep out of trouble, away from the attentions of the Davillon Guard and above the secrets and schemes of the city's new bishop.

But she's in way over her head, with no idea which way to turn. The Guard doesn't trust her. The Church doesn't trust her. Her own Thieves' Guild doesn't trust her.



Too bad for everyone, then, that she and her personal god, Olgun, may be their only real weapon against a new evil like nothing the city has ever seen.
*