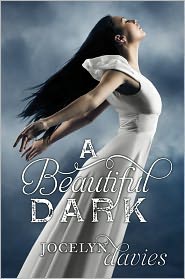 A Beautiful Dark
by
Jocelyn Davies
Released September 2011
Review:
When is the world out of your control. How can a destiny you have never know of matter. When is the time to choose too late?
A Beautiful Dark was a dark riveting read. Coming into its pages I had no idea what I was getting into. But it was breathtakingly amazing.
The story opens up to an orphaned girl names Skye who lives with her back-trails traveling aunt, but it turns into so much more. With a past that is quickly unraveling before her at the cusp of her seventeenth birthday and catastrophic abilities manifesting themselves, Skye finds herself torn between what she remembers and what is becoming inside her.
With the introduction of two secretive boys coming into her life with their own agendas and abilities, Skye soon finds that the ski slopes are not the only place she can loose herself into.
A Beautiful Dark was an amazing read that had the pages unfolding into hours in my hands. I could not put this one down, the character's and their plight entrapped me and flew beyond my wildest expectations in this book.
A Beautiful Dark was just that, beautiful. One of the most amazing upcoming releases that I am awaiting in print this year.