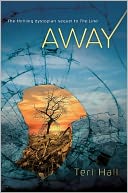 This Wednesday: AWAY by Teri Hall
Released: 9.15.2001
The Line was a breakthrough story about a dystopian future in which war has torn people apart, destroyed the land and poisoned people. A massive wall was erected separating peoples, cities, families and now in Away we reach the other side.
Our main character is Rachel and in the Line she found that there was another group of people living, but ill and that her mother's employer, Ms. Moore has a hidden past, and a course of deadly secrets for Rachel, her mother, and the people across the Line.
Teri Hall really captured me with the Line, the Line was in the beginning of this massive wave of amazing dystopian releases, and it was an amazing book that my tweens picked up and we discussed at length. There is so much in the Line that parallels today's world that we live in which makes it ripe for discussion.
So I cannot wait for Away. I have it on hold from the library and once I dig into these pages, I know there will be much to share. The Line captured me, but it's sequel will take me Away.