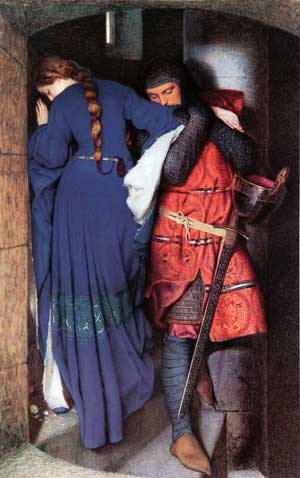 There is something extra awesome happening tomorrow over at the
Merry Sister of Fate Page
.
They have a fabulous giveaway happening that involves a tale created by this picture.
This is the piece,
"The Turret Stairs" by Frederic Burton. His work is just amazing and breathtaking and I have several of his prints around my house. So this was totally awesomesauce when I saw it and then created this narration to go along with it.
It could not be anything, but it was everything to me.
A kiss on the stair, I could not dare but as he grasped my arm and lowered his mouth to it, my heart skipped a beat and fluttered as a bird. Something danced in my breast aching to be set free. Neither of us was free, I was to be sent to a prince far away, and he was a knight in my father's castle. It was some bittersweet moment that I could carry with me into the darkness, shelter in my arms one moment, one kiss to keep me in freedom. For so my father could bargain my body, he could not sell my heart for all of the hounds and horses he bargained for.
I pulled and ran upwards on the stair, tiny tear drops marking my path as my slippers padded silently against stone. Reaching the door to my room, I tossed upon the rush bed cradling my arms close, holding that kiss in against an eternity of obligation.
Whew! That was some fun to do and for fast short fiction I wish there was more.
So if you are feeling a hankering for getting creative stop by their blog and enter in with your creation so a chance to win some amazing reads. Thank you ladies for this beautiful painting prompt!