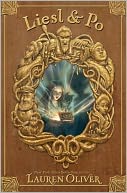 The Story of Liesl and Po
by
Lauren Oliver
Released September 2011
Hardcover
My Review:

I think that L&P is a lot like all of us.
After the death of her father Liesl is stuck in the attic for months as her Stepmother lives off the family wealth.
L&P is more than a story about a girl, the story is a lot about saying goodbye and moving on.
Many times through our lives people will pass into the Everafter and people have many ways to get past their grief.
Through akward and abandoned Will we see the wanting and through Liesl we see the hope.
The story was remarkable and ever so beautiful. From having lost many people around me, L&P gave me many a teary eye.
This story was so poignant and beautiful, the characters were so well described and so full of life and emotion that they captured my heart.


I think that L&P is a touching beautiful book that everyone should read and should share.
Lauren Oliver has created a timeless epic with this book that should be read by children everywhere especially when they are overcoming loss, and they can feel the hope that living has a sweetness, and that happiness is all around us in many forms.

Book Blurb:
We meet Liesl the night after the day her young father has died. That same day she is visited by a ghost, Po, an eight year old boy who lives on the other side, the territory between life and death that runs parallel to the living world. Po has come to tell her that her father is stuck on the other side, and that she is the only one who can help him cross over. A couple of wooden boxes. Some ashes. Some magic dust. A ghost, its pet, and a boy who forgot to wear a hat in the cold. From these seemingly odd, random characters Oliver weaves the enchanting story of how, with the aid of Liesl, these elements come together over the course of one week to restore love and luster to a world gone grey and heartless.


This book is part of the Tour group, Around the World Tours.