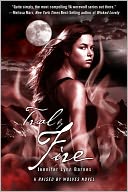 WOW for this week is: Trial By Fire! by Jennifer Lynn Barnes
I loved Raised by Wolves. It brought a new twist to the shift, and a great set of characters. I know that this is released, but I am literally waiting! for it to arrive in the mail which is just about killing me since there are these fabulous reviews that are up and I am averting my eyes like crazy to not see any more snippets or quotes of awesomeness.
Book Blurb:
There can only be one alpha.



Bryn is finally settling into her position as alpha of the Cedar Ridge Pack—or at least, her own version of what it means to be alpha when you're a human leading a band of werewolves. Then she finds a teenage boy bleeding on her front porch. Before collapsing, he tells her his name is Lucas, he's a Were, and Bryn's protection is his only hope.

But Lucas isn't part of Bryn's pack, and she has no right to claim another alpha's Were. With threats—old and new—looming, and danger closing in from all sides, Bryn will have to accept what her guardian Callum knew all along. To be alpha, she will have to give in to her own animal instincts and become less human. And, she's going to have to do it alone.

Bryn faces both the costs, and the rewards, of love and loyalty, in this thrilling sequel to

Raised by Wolves.