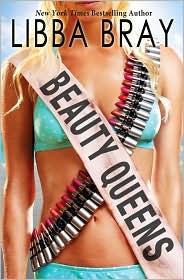 Beauty Queens by Libba Bray
Released 5.24.2011
by Scholastic Inc.
400 pg Hardbound
Now the first thing you see is this awesome cover, no really it is something to behold and what I love most is that is really ties into the story. For you fellow having read this, this reminds you of Taylor right?!
Now there was also some great moments in this book and I love all of the Corporations comments throughout the book as well as the Teen Dream applications put into the book. It was such a snarky riot. I ordered a copy for my stepdaughter after having only read 20 pages, it was so full of awesome.
There are only a few great books that catch you that fast in loving it and then spreading that love around. These Texas authors really know how to write epic good reads.
Basically you take a plane load of beauty pageant teens that are now participating on the final league of the Miss Teen Dream Pageant, and then you crash their plane on an island , make a cover up and call them all lost at sea, and have them fend for themselves. Oh my gosh the dialog is fraking fabulous and then all of the comments for the Corporations products, placements, and tv shows really ices the cake in the awesomesauce.
If you are looking for good times with bonus snark and snack slaying, then Beauty Queens will delight your weekend.
I know it sure made mine was more enjoyable.