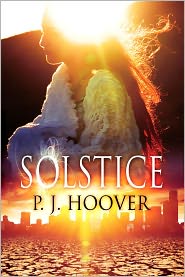 Over the weekend I Nook-ed me a great read, it is
Solstice by P.J.Hoover.
Released now!
E-Read
Here is the blurb from the Publisher:
My world is dying. Global warming will kill every living thing on Earth. I endure the endless summer, and do what I can to help. Until one day…

I open a box, and everything changes.

I discover a world of mythology parallel to my own. A world where gods battle for control, and monsters feed in the rivers of the Underworld. This dark world pulls me in and tells me I belong.

I meet Shayne, who keeps secrets from me. And Reese, who makes me feel alive. But I almost lose my best friend and my life. I don't want to leave this new world. But can I choose the life I want, without sacrificing the people I love?

SOLSTICE is P.J. Hoover's debut YA novel and is the first front-list novel to be independently published by an Andrea Brown Literary Agency author.
The storyline is amazing. I love the characters so far and their world is amazing to read about. I have to say I love dystopian, and Solstice is such a pleasure to be reading right now.
They created a great trailer for Solstice also: