Upcoming Read: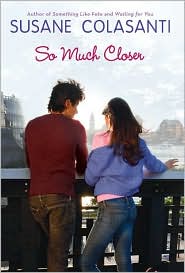 So Much Closer by Susane Colasanti comes out in May and we are so excited here.
I love this author who has brought us such books like When It Happens and Something Like Fate. These are books you can sit down and read along side your teen (which means you need two books, since they don't like sharing) and have a great talk about over dinner.
So Much Closer is about:
When Brooke's crush, Scott, moves from their suburban town to New York City, she decides to follow him there. Living with her formerly estranged dad and adapting to a new school are challenging, and things go from bad to worse when Brooke learns that Scott already has a girlfriend. But as she builds her new life, Brooke begins to discover a side of herself she never knew existed. And as she finds out, in the city that never sleeps, love can appear around any corner...
In the Big Apple anything can happen.
Penguin even came out with a great trailer to entice us more... or really taunt us with this awesome read... so I cannot wait. The release is So Much Closer......