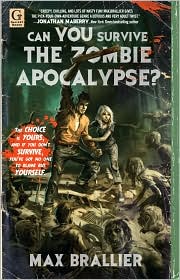 Can You Survive the Zombie the Apocalypse by Max Brallier.
Published February 2011
400 pgs
No longer do you get to sit back idle as a bunch of fools make all the wrong moves. All hell is about to break loose-and this time you have a say in humanity's survival.

You're twenty-five years old. You live in a crappy, overpriced studio apartment in Manhattan. You work a corporate job that you're not particularly fond of. Up until now, your day-to-day life offered few surprises.

But today, on a hot and humid July morning, zombies have come to Manhattan.
Bwah hahahaha are you prepared?
Read like the epic Choose Your Own Adventure Series of our youth, this book is a fantastic read best read with friends and a lot of spare times and drinks .