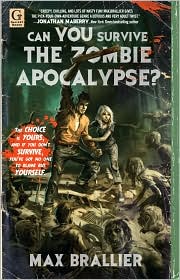 Can you Survive the Zombie Apocolypse by Max Brallier
Published February 2011
Simon and Schuster
400 pgs Paperback
I had so much fun with this book! There is never a night where I do not have some quippy remark about the upcoming zombie hordes. There are many people
who snark about with me on this topic. But I tell you, this book has it all! Have you ever wondered how to survive in a restaurant during an attack? Want to make your own decisions during a panic?
This book took me back to the teen days reading the Choose Your Own Adventure Series except add zombies to every page and do not drink while reading because spontaneous laughter may resume at any time. I would sit on the couch reading to others and having them pick the next part of the story, so wait it could have been like and Apocalyptic Zombie party and I missed out?!
Wait turn to pg 46 and resume party on with appropriate attire and weapons right?
Oh my gosh who could go wrong with great zombie plot turns like: "If you
want to take shelter in the nearest building, an elementary school, turn to page 286." OR do you: " Take off up the street, hoping to put as much distance between you and these things as you can? Turn to page 253."
Here is a more descriptive blurb on this fantastic book:
The first of its kind to enter the zombie genre, this novel offers hundreds of plot options to choose from, placing the reader's destiny in his own hands in an exciting Pick Your Own Path format. Beyond page one of this book lies unspeakable horror. Bone-crunching, blood-splattering, brain-chomping horror—the horror of the zombie apocalypse. But this time it's different. No longer are you a spectator, watching the fools on the page or screen make all the wrong moves. This time you have a say in humanity's survival. You're twenty-se
ven years old, living in a crappy, over-priced studio apartment in Manhattan. You work a corporate job that you despise. Up until now, your day-to-day life has offered few surprises. But today, on a hot and humid summer morning, zombies have come to Manhattan. You have choices to make now—lots of them. Moral dilemmas. Strategic decisions. Weapons. Vehicles. Will you be a hero? Will you survive the coming hours, days, weeks, and months? Or will you die amidst the chaos and violence of a zombie uprising? Or, worst of all, will you become one of them? The choice is yours. For example: If you choose to hide in the basement, turn to page 15. If you want to grab the shotgun and head for the roof, turn to page 35. Stay in the city and begin looting? Flip to page 80. Steal a car, cross the George Washington Bridge, and head for the countryside? Flip to page 45. Featuring vivid illu
strations and more than one hundred paths and seventy-five endings, this is the ultimate book for today's zombie enthusiast.
Do you want to survive? Pick one up at your local bookseller:

Thank you Gallery Books for this great read for review! I had a fantastic time spreading stories around me town and are proud to say: We are preparing.