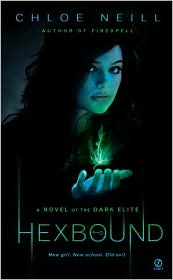 Hexbound by Chloe Neill
Released January 2011
Book 2 in the Dark Elite Series
Published by Penguin
256 pages (of awesome)
Scout snorted and crossed one ankle over the other, her shoes glinting in the sunlight.

"And now I keep finding glitter on my bedroom floor."

"Whatever. My shoes do not shed."

I gave her a dubious look.

"Seriously. That's just...um...horn dust from the unicorns that braid your hair while you sleep." pg 2 (from ARC )



Do you want a little snark in your read this week?
Lily Parker is a quirky new heroine in the Dark Elite Series released by Chloe Neill.
Chicago just got a little dirtier, and when Lily is investigating activities with other Adepts (magic using guild for the good)they come upon some strange creatures and some really green slim. This discovery will unravel a whole new host of problems for this set of characters as they are discovering more about their growing powers, and their growing attractions.
So unless the Reapers hold them back, be prepared for an adventure, and a lot of fun dialog.